Shipping and Returns
Orders received after 8 A.M. EST will be processed the following business day. Orders with overnight or second day shipping selected should allow one day of processing before the item will ship. Orders with standard shipping selected should allow 24-48 hours of processing before the item will ship. In all cases, the item will ship according to the shipping method selected.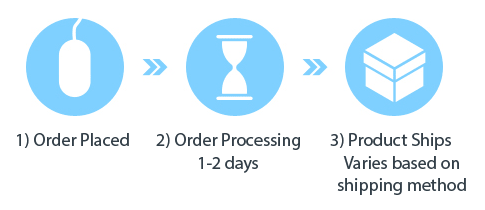 USA shipping options:
Standard

FedEx Second Day

FedEx Standard Overnight
Canada shipping options:
Standard

International Economy 2-5 business days

International Priority 1-3 business days
International shipping options:
International Economy

International Priority
---
Gordian Return Policy
If you have a problem with your order, please contact your sales representative or Gordian customer service. Gordian is unable to provide refunds for any RSMeans Data Online products, eBooks, or CDs.
Unused RSMeans Data books may be returned for a refund within 30 days of the receipt date, as determined by carrier tracking information. Shipping costs, if any, will not be refunded. To obtain a refund, please return the books with the original packing slip to:
Meyer
RSMeans Return
255 Long Beach Blvd
Dock E10
Stratford, CT 06615
You are responsible for any return shipping costs. We strongly suggest you return books via a shipping carrier and method that provides tracking and insurance. Please retain the tracking information for your reference. Gordian is not responsible for any returns that are lost, damaged, or destroyed in transit.
If you decide to return or exchange an RSMeans data construction cost book, follow the instructions on the packing slip that came with your order. If you cannot locate your packing slip, visit your My Account page and locate the section for Order History. Have the order history for the items in question when you contact Customer Service.
Shortages & Damages
You must contact us within 10 business days if your shipment was not complete, and this must be verified by shipping weight.
You must contact us within 10 business days if any product was damaged in transit. This must be verified with photographs. We will then ship replacements; we will not refund for damaged products.
Gordian will not be responsible for shortage claims or damages that were not communicated and verified with the specified time frame.
Lost or Missing Shipments
Gordian will not be responsible for lost or missing shipments if the carrier (FedEx, UPS, USPS, other) confirms the items were delivered to the address on the order. If the tracking on your shipment shows the items were delivered, it will be your responsibility to file a claim with the carrier.
RSMeans Online Terms of Service
RSMeans Online is commercial software as a service and is being licensed subject to the commercial license terms of service attached linked below. RSMeans will not accept any additional or different terms contained in any contract, purchase order, or similar document. Terms can be found at: https://www.rsmeansonline.com/Content/RSMeansOnlineUserAgreement.pdf
Gordian reserves all rights to refuse or deny any individual's attendance at, or participation in, its seminars for any reason whatsoever, including without limitation as a result of the individual's affiliation or suspected affiliation with any competitor of Gordian. If Gordian determines that an individual should not attend or participate in a seminar after such individual has paid to attend or participate in the seminar, the individual's payment will be refunded.
Purchase of Gordian products signifies acceptance of these policies. No exceptions will be made. If you return books outside of the policy requirements, Gordian will not ship back any returned product for any reason.