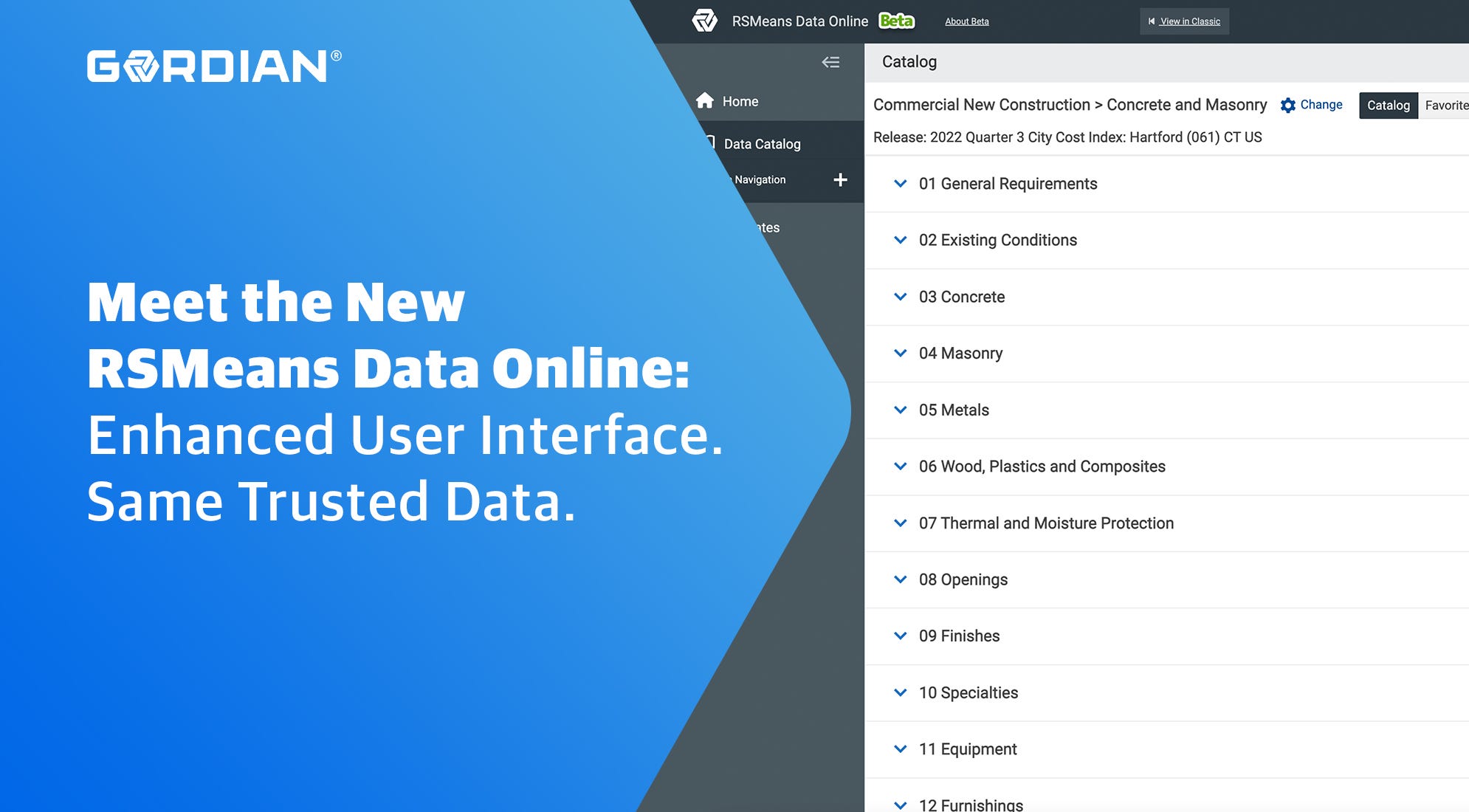 Meet the New RSMeans Data Online: Enhanced User Interface. Same Trusted Data.
Gordian is dedicated to finding ways to continually improve the experience for you, our valued users. That is why we are thrilled to launch our brand new RSMeans Data Online user interface, designed to maximize your productivity, enable intuitive platform administration and bring parity and consistency across all of Gordian's software products.
The new user interface is just the beginning for RSMeans Data Online. Our product team will continue to develop more features throughout the next year and into the future. This page will provide a high-level overview of the most recent updates. For more details and supporting resources, see the Online Help Center within RSMeans Data Online, linked at the bottom of this page.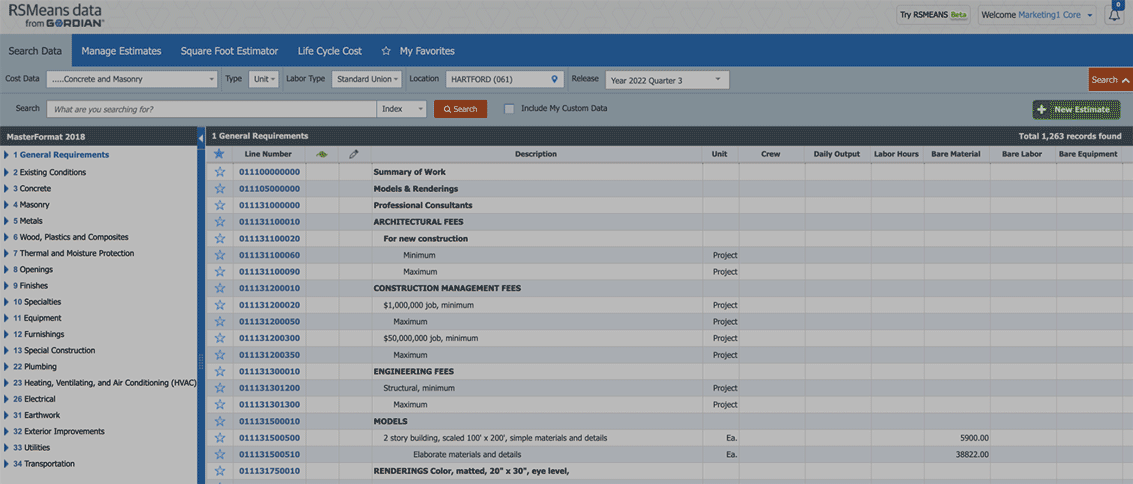 New Welcome Page
We've streamlined the RSMeans Data Online experience with an improved welcome page to provide you with immediate access to the most relevant information.
On the new welcome page you can:
Pick up where you left off on recently edited estimates. This applies to estimates you create and to estimates shared with you.
Be notified of system updates and maintenance intervals along with the latest release notes.
Find helpful resources with direct access to user guides and the training library.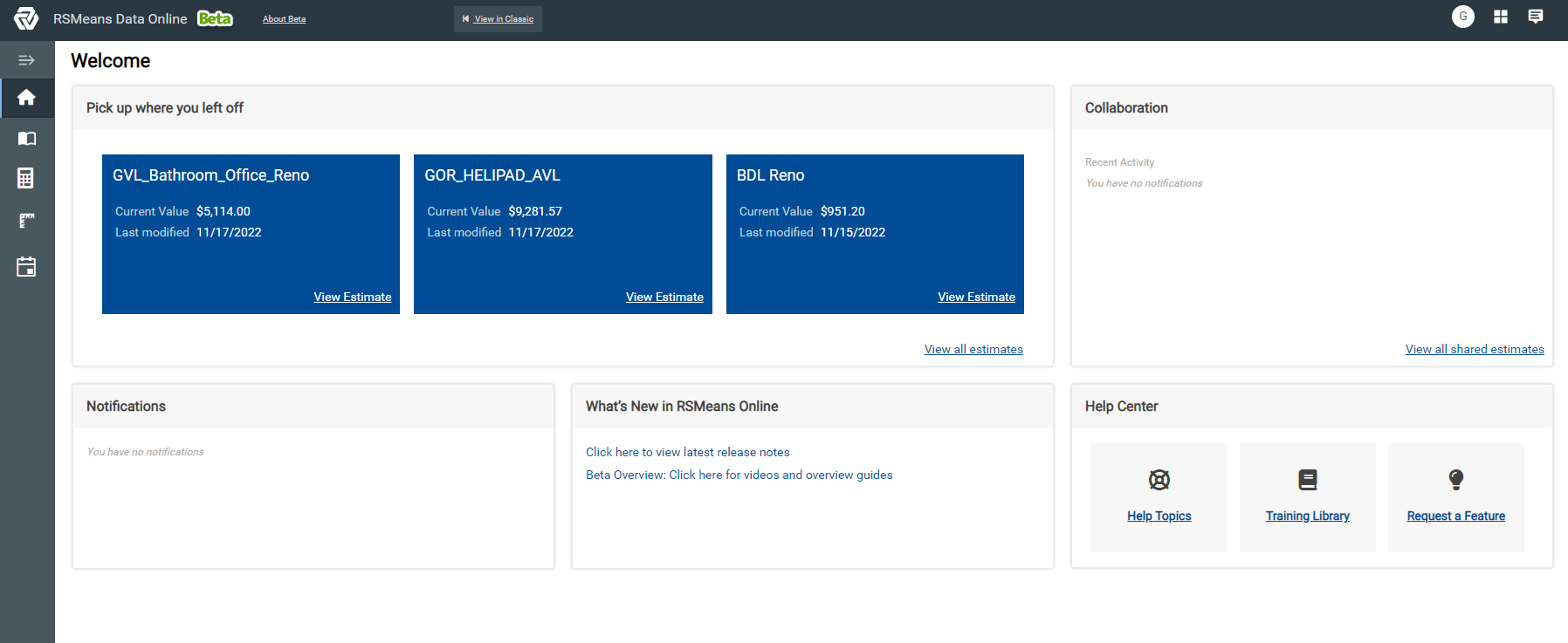 RSMeans Data Online New User Interface – Welcome Page
Data Catalog
The new Data catalog replaces the historical "Search Data" tab, bringing the entire cost catalog to you in a full-screen view. You can now navigate the catalog hierarchy with maximum visibility.
This is one example of a principle you'll see applied throughout the new UI – simplifying the experience and providing more screen space to enable you to see more information and work more efficiently.
With 85,000+ line items, drilling down within the MasterFormat division hierarchy can be tedious and time consuming, so we improved our search. Now, you can either type in a keyword or code or cut and paste a search parameter from another source and search the database.
Type in a keyword to receive results in the catalog view by MasterFormat division and you'll find how many keyword/code matches there are in total and within each division. You'll notice that the search term is highlighted so you can find it easily, and contextual search brings up line items related to your original search to save you time.

RSMeans Data Online New User Interface – Data Catalog
Creating and Managing Estimates
Lastly, we've carried the simplification of the experience and the principle of maximizing screen space into the estimate module. Through user feedback and research, we focused on two core efficiencies when a user is working with an estimate. The first? Visibility.
You now have visibility into the most important part of an estimate: the total costs. Located at the top of every estimate, the total costs are visible 100% of the time and automatically refresh with every change.
Estimates are presented within three tabs. The first is the summary tab, which includes the estimate name, the client's name, the data catalog information used for the estimate and a place to leave notes. The second tab is the worksheet. This is where you build unit line-item estimates. The third is the reports tab that allows users to export to PDF or excel.
The second core efficiency we've focused on in this release is estimate management. We've consolidated the workflow and actions of managing estimates and folders into a single view. It's a more intuitive experience for you that empowers you to manage your files however you want in fewer clicks.
From this screen, you can add, edit and/or delete folders and estimates. Duplicating or copying an estimate is now easier and clearer than ever before. When an estimate is copied, the duplicated estimate will have "-copy" appended to the file name to differentiate it from the original.
By streamlining the folder and estimate structures, you can manage and organize your workflows in a personalized hierarchy for a cleaner, more efficient view of your projects.

RSMeans Data Online New User Interface – Estimates Folders
All of these enhancements are now available in the new BETA user interface of RSMeans Data Online. You can toggle quickly between the new interface and the classic one and be redirected to a similar area within each interface. Gordian will continue to make additional UI enhancements to RSMeans Data Online in the upcoming releases and share the exciting updates here.