A Closer Look at 2022 Construction Cost Changes
The construction industry has never seen anything like the past two years. Material price hikes. Supply chain bottlenecks. Skilled labor shortages. Budgets have gone through the roof. Projects have been halted by material scarcities. And market uncertainty has reduced the shelf life for bids and estimates from weeks to days. It's in this context of frenzied market movements and a foggy future that our 2022 RSMeans data launched.
For over eight decades, RSMeans data has stood as the gold standard in construction estimating, and we took extra steps to reinforce that status this year. By collecting 20% more data points on material costs and placing added emphasis on frequently used and highly volatile materials, we hope to combat the ongoing challenges construction professionals are facing. The result of this additional research is an enhanced localization model that will provide a reliable foundation for estimates and budgets amid the lasting effects of the pandemic.
So after a collective 30,000 hours of research and validation by our team of data engineers, let's take a look at some of the cost changes in the 2022 RSMeans dataset.
2022 Construction Cost Changes
When looking at year-over-year costs, 93% of the construction materials, equipment and labor rates in the RSMeans database changed in cost. While that rate of change is high, given the state of the market over the past year, most construction professionals will be unsurprised to see such a large percentage; The ripple effects of the pandemic have been felt in virtually every corner of the construction industry. With over 85,000 line items in our database, that means that roughly 79,000 of them have fluctuated from January 2021 to January 2022. Those fluctuations are not limited to a specific direction: many costs have increased, though some may have decreased.

When looking specifically at price increases across our three main categories of line items, we see that the labor market has outpaced the material and equipment markets. 98% of labor costs increased over the last year. This rate of change is not markedly higher than years past, as wages almost always increase year over year for every trade or skill. But keep in mind that this number only represents the fact that wages are increasing. It doesn't speak to the levels at which they are increasing, which can be found by consulting specific line items in the database.

In a strange instance of parity, 71% of both construction material costs and equipment rates increased. Both of these areas are being affected by supply chain bottlenecks, transportation issues, component shortages and rising fuel costs, all of which have been well documented in publications and news cycles. Indeed, provided the amount of airtime those issues have garnered since 2020, there may be professionals who expected greater rates of increase. But some parts of the market have begun to fall back to earth, particularly when dealing with construction materials. Here are some specific examples of material cost changes: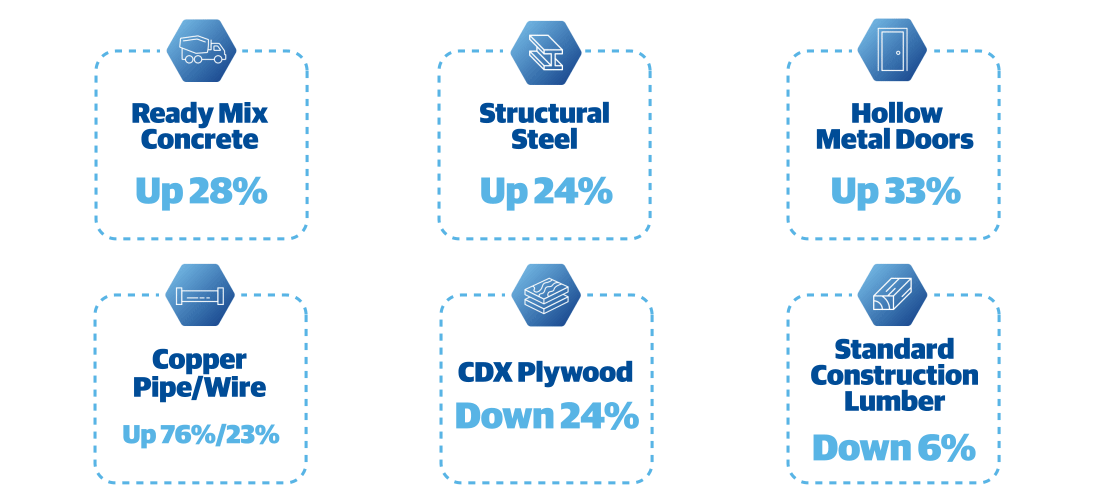 Off the bat, it's good to see lumber prices coming down. Remember that this is not a comparison of current costs to pre-pandemic costs – most lumber products are still running higher than they did before the pandemic began. But, when comparing those line items to their January 2021 levels, they are trending in the right direction.
The opposite is true for several other near-universal materials. Copper, concrete and steel all continue to rise, as do components containing those materials, like pipes, windows and doors. Products produced from petroleum, too, have seen notable cost increases.
Comparing Locations
With so many material prices, equipment costs and labor rates increasing over the past 12 months, the overall cost of construction projects will be higher this year. One poignant way to demonstrate this is by comparing conceptual estimates for the same structure produced with cost data from both 2021 and 2022.
For the exercise, we're utilizing the Square Foot Estimating tool in RSMeans Data Online and setting it to estimate the cost of building a 4-7 story apartment building. When using non-localized, national average cost data for 2021, the total estimated cost comes to $12.1 million. When updating to 2022 data, the cost jumps to $13.2 million, meaning that the identical structure would cost a builder over $1.1 million more on average this year.

However, construction costs don't increase at identical rates across the nation. So, we chose four geographically distant locations from the 970 local markets contained in the RSMeans database and repeated the same exercise. Predictably, the cost of constructing a 4-7 story apartment building still demonstrated an increase in each location. However, the level of increase in Dallas fell $100,000 below the national average, while the other three locations all topped the national average, with Minneapolis topping the scale at $1.4 million.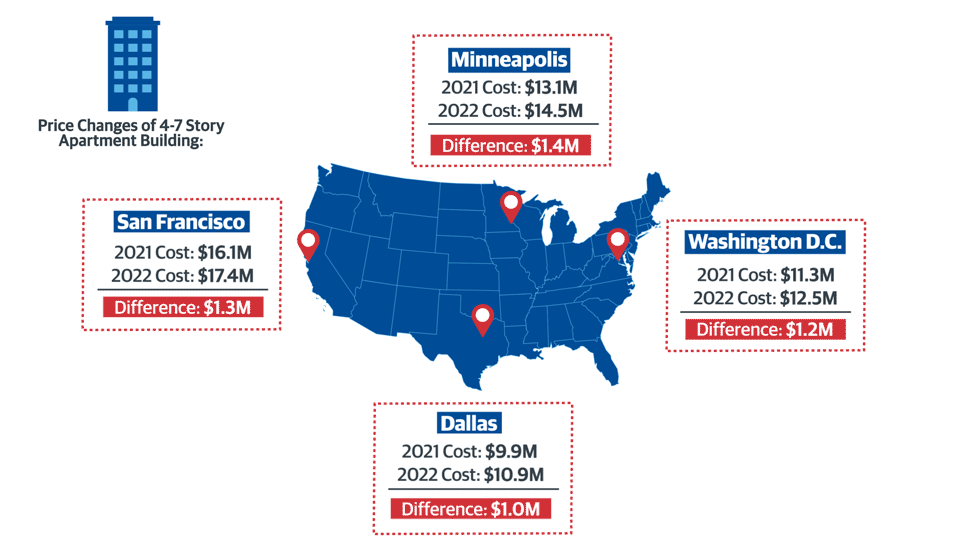 Keep Up to Date
The construction industry has yet to settle back into predictable and steady cycles. Most sources project that it can take up to two years post-disruption for supply chains to normalize, but new and different disruptions are continuing to occur around the world. All said, it seems we will be living in an unstable market for quite some time. In those conditions, it's imperative to keep your cost estimating data up to date.
That's why Gordian releases quarterly updates to localized RSMeans data. Available in costbooks and automatically uploaded to RSMeans Data Online, quarterly updates help you ensure your estimates are solid amid a shaky industry.