2021 Construction Estimating Trends: RSMeans Data Online Year in Review
Over the past decade, RSMeans Data Online has become North America's most trusted cloud-based estimated platform. Built on the foundation of our proprietary RSMeans data construction cost database and enhanced with industry-leading estimating tools, it's no surprise that more estimators are choosing RSMeans Data Online for their work than ever before.
The growing number of RSMeans Data Online users provides us with a significant window of insight into the state of the construction industry. By looking at the types of estimates created in the platform – and even zeroing in on the specific line items searched for – we can see industry trends emerge. And in a year when construction encountered so many unique challenges, the may reveal some interesting findings.
So let's take a look and see what we can learn.
Estimate Counts
A total of 151,363 construction estimates were created in RSMeans Data Online last year, which measures in at almost 8,000 more than 2020. While those numbers tell us very little on their own, they start to gain greater meaning when we tie them to specific locations.
The top location by estimate production was San Juan, Puerto Rico, with 2,957 estimates created. Given the relatively small population of San Juan – just over 300,000 – it's surprising at first glance to see the city top the list. However, this volume is undoubtedly due to the extensive hurricane recovery efforts carried out on the island through much of last year.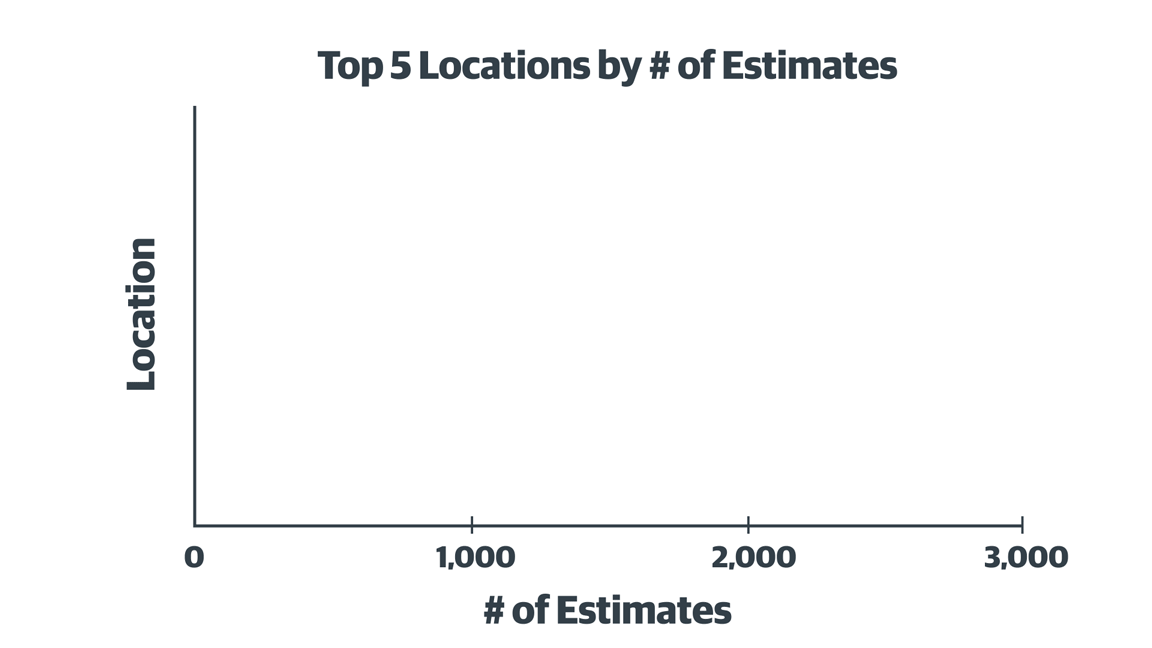 Other top cities, like Miami, Houston and New Orleans, could appear on the list for a similar reason: producing estimates to prepare for the chance of hurricane damage or flooding. It's likely that Denver, Sacramento and Los Angeles experienced spikes in estimating for natural disaster reasons, as well; though they would be working on fire recovery efforts, rather than tropical storms. Each of these cities produced between 1,000 and 2,600 estimates in RSMeans Data Online during 2021.
The list of top-40 estimate produces also features a handful of cross-border and non-CONUS locations. Canada is represented on the list by Kitchener, ON, with 1,247 estimates and Montreal, QC, with 759. Similar to San Juan, Kitchener's appearance in the top-15 is surprising given its population size. It outpaced both Montreal and nearby Toronto to claim the top Canadian spot on the list. Meanwhile, <strong>Honolulu – a perennial top-40 city – produced 665 estimates</strong> in RSMeans Data Online last year.
Click here to watch the full 2022 Construction Cost Changes webinar and hear how the prices of specific materials have risen or fallen over the past year, plus gain insight into how the the construction industry market might shift in 2022.
Estimate and Project Types
Of the total 151,363 total estimates created in RSMeans Data Online in 2021, approximately 110,000 were standard line item estimates. The remaining 40,000 were split almost evenly between estimates comprised primarily of assemblies data and square foot estimates built with the Square Foot Estimator tool.
That number of square foot estimates – 21,747 to be exact – maintains a steady trend of year-over-year increase, as RSMeans Data Online Complete and Complete Plus subscribers continue to utilize the Square Foot Estimator to produce conceptual estimates.
In terms of dollars, those 21,747 square foot estimates represent a total of over $167 trillion of construction. While it can be certain that not all of those projects were designed, funded and bid, it's an impressive amount of value for only 14% of the estimates created in RSMeans Data Online in 2021.

More interesting, still, is the movement toward using green, environmentally friendly square foot models for conceptual estimates. Over 1,000 of the estimates created in 2021 using the Square Foot Estimator were built with green square foot models.
Like the RSMeans Green Construction dataset, green square foot models estimate the cost of construction based on the use of low-impact or recycled materials and eco-friendly building techniques, where applicable. The growth in green model use is evidence of a growing trend toward environmentally conscious construction across the industry.
The most popular square foot model of 2021 was the 1-3 Story Apartment building, which was used over 3,500 times. This model consistently places atop the annual list. The next two models were the Warehouse and 2-4 Story Office, with 1,600 and 1,100 uses respectively. These, too, are frequent flyers of the Square Foot Estimator top-five. To see both remain in near the top of the list may be an indicator that businesses are attempting to return to more normal operations as the pandemic wanes.

Line Item Trends
The largest jump in metrics that RSMeans Data Online experienced last year was in the number of line item searches. In 2020, users completed just over 1.1 million searches for specific line items. That number more than doubled in 2021, when users completed more than 2.9 million line item searches.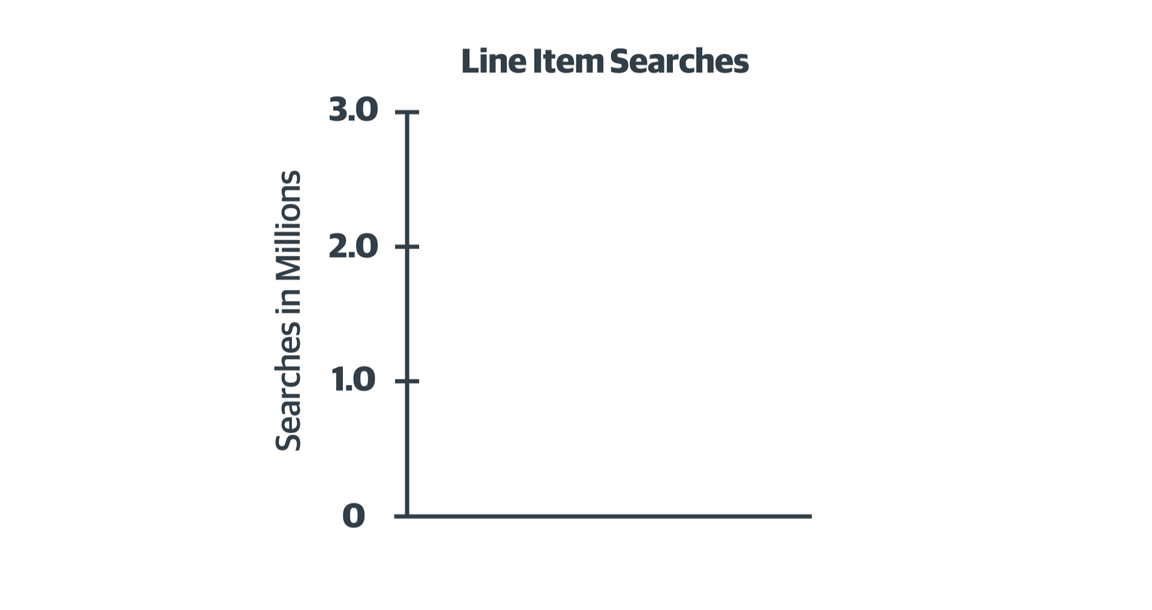 The most searched line item is both unsurprising and a clear sign of the times. With 32,467 searches, HVAC-related line items more than quintupled the runner-up line item. While HVAC items are always heavily searched, the sheer volume of searches indicates how improved air circulation and filtration has become a near universal focus for building renovation and construction in the COVID-19 era. HVAC has been, and will likely continue to be, the top-searched item so long as the virus is a largescale public health threat.
The majority of the remaining top-ten searched items indicate that RSMeans Data Online was used extensively to estimate the cost of renovating, updating and maintaining existing facilities. Dumpsters, drywall, paint and demolition all rose up the ranks, with between 4,500 and 6,000 searches each. Concrete and sidewalks represent horizontal construction projects in the top-fifteen items, while mobilization and cranes placing highly show that our platform was regularly searched for heavy equipment.

Looking Ahead
None of these data points on their own provide a comprehensive look at the state of the construction market. But when taken together, they create a window into the industry through which we can see high-level construction estimating trends, like the move toward green construction, the emphasis on disaster preparedness and the increased focus on air filtration systems.
On the heels of a record year for user activity, 2022 is already shaping up to top the RSMeans Data Online volume of 2021. If you're looking to start your own RSMeans Data Online journey, click the banner below to sign up for a free trial today.
Get more work done, better and easier, with RSMeans Data Online.