Subscribe Today and Save on All RSMeans Data Online Tiers
Get instant access to materials, labor and equipment costs with the features you need most.
Designed for pros who need greater depth of data and the ability to analyze histoical costs.
Everything you need plus the power to look up to three years ahead with predictive costs powered by machine learning
Plan, Create, Validate and Maintain Your Projects on a Secure, Cloud-Based Platform

Plan your next budget with accurate construction costs.

Create estimates with unit costs, assemblies or square foot models.

Validate unfamiliar costs or scopes of work.

Maintain existing buildings with schedules and detailed costs.
Need a Hard Copy? Pre-Order Your RSMeans Data Cost Books Today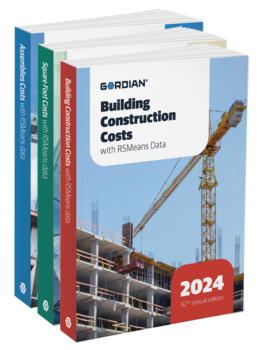 In production since the 1940s, RSMeans Data cost books have been a standard for quick reference of prices across North America for more than 80 years.
Don't Just Take it From Us — Here's What Your Peers Are Saying