Frequently Asked Questions About COVID-19 Modifiers in the 2021 RSMeans data Release
There are two new categories of construction cost line items being added: Biohazard Remediation and Infectious Disease Precautions.
The Biohazard Remediation line items include the installation of temporary barriers for alternate traffic flow, ensuring social distancing and employee/customer checks and tests.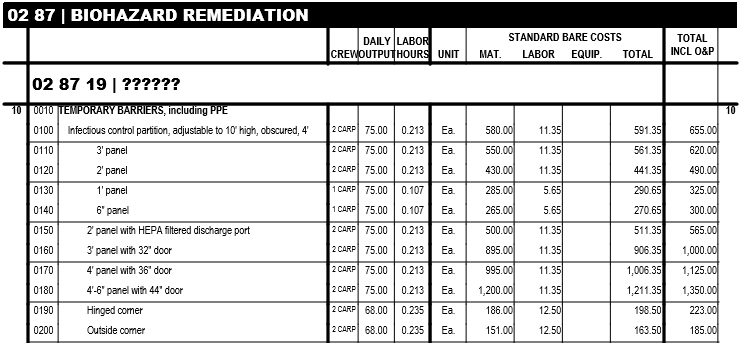 The Infectious Disease Precautions modifiers include adjustments to labor costs that allow the estimator to choose which precautions are required.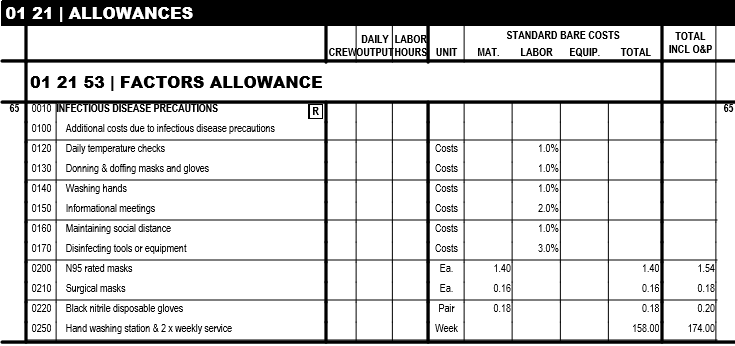 These new line item costs and modifiers will be available with the 2021 RSMeans data release, available in early November 2020.
The COVID-19 modifiers allow cost estimators to adjust to the specific precautions for each project. Performing daily temperature checks, donning & doffing PPE, washing hands or disinfecting tools and equipment all impact labor efficiency. These modifiers provide a mechanism for cost estimators to allow for those inefficiencies in their project cost estimates. To find these modifiers, simply enter "Infectious Disease" in the search window.
These new line items are included at no charge in RSMeans Data Online and the appropriate 2021 Cost Data Book & CD titles.
Book and CD users will receive the new line items and modifiers in the 2021 titles. Please note this only applies to Unit Price Construction Cost Titles:
The new line items and modifiers will be automatically added to RSMeans Data Online in November 2020, when 2021 cost data becomes available. You do not have to take any action to receive them.
Gordian recently conducted a survey of contractors, estimators and industry experts on the precautions that are being taken in response to COVID-19 and the time it takes to deal with these precautions.
Yes. However, our approach allows the estimator to decide when and where to apply the infectious disease precaution modifiers.